Joesph W. Geary: Captain, US Army Air Corps. Navigator - B-24's 15th Air Force, 450th Bomb Group, &21st Bomb Squadron - Manduria, Italy.
Flew over 50 missions, including Ploesti,Vienna,Munich & Budapest. Awarded Air Medal & 3 Oak Leaf Clusters, Good Conduct Medal, America Campaign Medal.
European-African-Middle Eastern Campaign Medal with one silver (in lieu of 5 bronze) Service Star for participation in Normandy, North Apennines, Southern France, Northern France & Air Combat, EAME Theater Campaigns. WWII Victory Medal, Distinguished Flying Cross, French Legion of Honor

Jack Bennett: 18 years old when drafted & after training was assigned to the 1st Infantry Division (The Big Red One). At age 20 he landed on Omaha Beach in the Normandy Invasion. His platoon fought their way through the fortifications, and advanced through dairy farms & apple orchards while liberating a series of small villages in NW of France as well as Belgium.They were the first to enter Germany at AAchen where he was wounded Oct. 13 1944 near there, and spent 6 months in an army hospital in England before being returned to the USA..
Jack was awarded the bronze Star, Purple Heart w/Oak cluster, Good conduct, Atlantic Theatre, North Africa-Eurp w/arrow Head and 4 battle stars, CIB, French Saint Maurice. On Friday May 10, 2013, the Vice-Consul General of France from Houston came to Jack's house & on behalf of the French Government awarded him the Knight of the French Legion of Honor.
Today Jack was 89 in 2013 and lives with his wife of 54 years Dorothy

James Megellas:
James is a retired United States Army officer who commanded a platoon in Company "H" of the 3rd Battalion, 504th Parachute Infantry Regiment, 82nd Airborne Division during World War II.
Wikipedia He is "the most-decorated officer in the history of the 82nd Airborne Division"
Born: March 11, 1917 (age 98 2016, Fond du Lac, WI
Education: Ripon College
Rank: Lieutenant colonel
Service/branch: United States Army Allegiance: United States of America.
Books: All the Way to Berlin: A Paratrooper at War in Europe
Awards: Distinguished Service Cross, Silver Star.

Robert N. Bray: Joined the Navy after college and trained as a Navy pilot. During the war he served for 2 years on anti-submarine duty in the Atlantic while based at NAS in Bermuda. German U-boats were creating havoc on Allied convoys to Britain and Russia. Robert played his part in helping to chase & destroy enemy submarines.
Robert served additional time on Kaneohe Marine base on Oahu Hawaii. He helped rescue and pick up Air Force pilots in the pacific Ocean from their downed planes.

Sergio A. Moirano : Army Serial Number l # 42015454
He was involved in the Day+2 landings on Utah Beach.
Originally he joined 357/F as a replacement. Then was transfered to Co G on June 23, 1944. Wounded on June 27 and sent to hospital. Returned from hospital December 26, 1944. Promoted to Private First Class January 3, 1945.Was re-hospitalized January 24, 1945. Currently living in Belgium 2013.

Arthur A. Kirscht: Was drafted out of college at age 17 and trained as an infantryman in the 100th Infantry in the 7th Army. Participated in the invasion of Southern France through the port of Marseilles. He fought through France up into the Rhone area where the 7th Army met up with the 3rd Army and the Free French Army.
At Strasbourg during a battle at St Blais where they fought for the possession of Hill 578 Arthur was wounded by a German 88 that ripped through both his legs severely damaging his right leg. He ended the war with a Purple Heart, Bronze Star and a Combat Badge. He was 91 years old at time of publication 2014.

Ray Halliburton: Joined Army in 1943. He trained in Texas & in Maryland. Served in Europe and awarded GCM, Expert Rifleman Medal and 4 Battle Stars. He was a member of K Company, 3rd Battalion, Tenth Infrantry Regiment, Fifth Infranrty "Red Diamond" Division, in Patton's Third Army. He was a corporal at Normandy France July 1944 after D-Day. After 3 months of combat across 500 miles he rose to staff sergeant & squad leader before his 20th birthday. Sadly Ray passed away at 92 years old in June 2016. A Smithsonian article
by Al Reinart on Ray and his wartime service can be seen here.



Arlie Blood: USAAF 510th Fighter Squadron 405th Fighter Group. As a Captain he flew as C Flight Commander on the Normandy Invasion missions from England. He then flew from airfields in Normandy on missions against German targets. His Thunderbolt was hit by enemy artillery which set his plane on fire. With 500 gallons of 100 octane fuel right behind his head, he had no choice but to bail out. Soon after leaving the aircraft it blew up. The Germans captured Arlie and put him on a Germany bound prison train. He cut a hole in the end of the box car and jumped off in the night. Arlie then joined the French Underground.

Ran into a German roadblock and was captured again. Escaped at night while guards slept. Re-joined French Underground. He located the new French base of his old squadron and re-joined them. Arlie was sent back to an Escape & Evasion School to teach new pilots how to evade and if captured, how to escape.

Arlie received the Air Medal-Distinguished Flying Cross as well as all the Campaign ribbons. He retired as Col., USAF with 23 years of service. Sadly Arlie passed away April 14, 2014. RIP
Click here to see a special page about Arlie & photos of his time with the French Resistance.

William (Bill) Singer: Navy Amphibious Assault Beach Battalion 3rd Class Electrician. Normandy Invasion-Omaha Beach. Also served at Iwo Jima, Okinawa & Osaka. Medals include IWO, Silver Star, Oak Leaf Cluster, Normandy Medal. 88 years old in 2013.

Roy A. Elsner: Entered USMC 1943 in San Diego. Made Corporal March 1944. 27th MarReg, 4th MarDiv. Attacked IWO JIMA , D Day, H Hour. Helped carry body of comrade John Basilone, CMH for burial on Day 2.
A mile from volcano & attacking main airfield when famous flag raising made on IWO JIMA.
Wounded in action 11th March 1945, lost tricep, left arm. Also head wound. Awarded Purple Heart with Star, Presidential Unit Citation, Asiatic-Pacific Medal, WW@ Victory Medal.
Dischargd as Cpl, 23 Feb 1946 Current age 89.
Often invited as a guest speaker on IWO JIMA.
Roy passed away February 2014.

Jeff Watkins: Was a British bomber pilot who had joined the Royal Air Force in 1940. He saw action in Africa and Europe eventually flying Lancaster and Halifax four engined bombers. He was part of the mission that sunk the German battleship Tirpitz. Jeff was awarded the Distinguished Flying Cross. He left the RAF as a Flight lieutenant and went on to make a fine career in aviation engineering. At 94 years old Jeff is enjoying retirement in San Diego California. To see the full transcript of his remarkable career in both WWII and in aviation engineering please click here.

Richard Overton: Believed to be the oldest living American WWII veteran at 110 years old in 2016. Richard served in the Army and fought in the South Pacific campaigns from 1942 to 1945. He served in Hawaii, Guam, Palau and Iwo Jima among others. He has a number of medals to his name. Richard lives in Austin Texas and was still strong & spry when I spoke with him in 2013 at time of orginal publication!
See Dallas Mornng News Story on Rchard

Conrad L. Lohoefer: Drafted into the Army at 19 before being transerred to 8th USAAF & trained as a Gunner. Was switched to Flight Engineering before being assigned to a B17 crew in Bassingbourn AFB in England 1943. Flew 35 bombing missions including 3 over Berlin. Received the Air Medal with 5 Oak Leaf Clusters. Ended the war as a Technical Sergeant. He was 89 years Old at time of original publication but has since passed away in 2015.

Raul Trevino: Joined Army March 23, 1942 aged 17. 45th Infantry Div, 180 Infantry Regiment, 2nd Battalion, "G" Company. Rank at D-Day Sergeant. Landed Casablanca Oct 1943. Campaigned in Anzio & Rome, Italy. Campaigned at St. Maxime, Southern France. Aug 1944. Made amphibious landing at Epinal & on to Vosges (Rambervillers sector)
POW: Captured in Rambervilles-Fremifontaine Oct 1944; Transfered by Germans to St Die & Strassburg, Lienberg, & finally to Stalag 3-C in Krustruin, Germany. Liberated by Russians in February 1945.
MEDALS: Silver Star, Bronze Star, Purple Heart, POW as well as 5 additional Campaign medals including another four Bronze Stars and numerous Bronze loops.
FINAL RANK: Discharged Oct 1945 as Sergeant; Re-enlisted in Air Force & retired Sr Master Sergeant Sep 1965
Aged 88 at time of publication in 2013.


LTjg Alexander George Samaras 1921-2017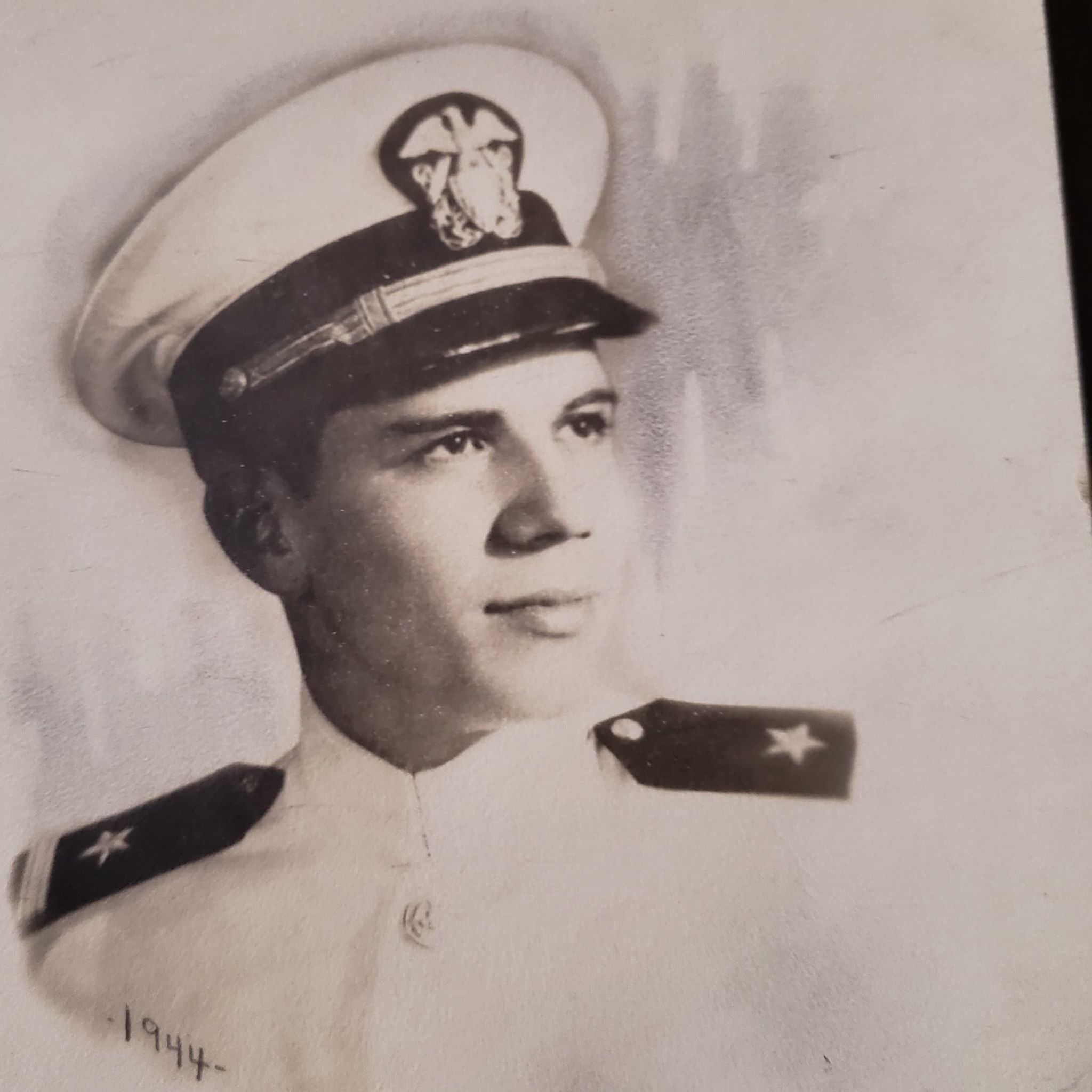 A.G. Samaras upon his graduation from college in 1943, joined the V-12 program (12 weeks to turn a civilian into a Naval Officer).
Click here to read more about his time on Atlantic convoy, Normandy invasion & shooting down Japanese Kamikazis!